When a DataCrush portal is created, a domain of its own will be used by default to access published landing pages. For example: tuportal.dc.mk or tuportal.datacrush.la
Datacrush allows portals to use their own subdomain to access published Landing pages, for example: landing.tuportal.com
The steps to create the subdomain are:
In 1st instance to be able to use this important functionality, you need to
configure your DNS
servers by placing a record of type
CNAME
and place it as a
ldg.datacrush.la
Note: Where Name is the address of the subdomain you want to use, example: landing.tudominio.com.
Then within the landing editor, in the Options tab, under the function to create the URL of the page, you have to click the Configure my domain button.

From there, if you follow the steps in this guide, you can configure the subdomain seamlessly, because from there you activate a circuit that generates everything from behind.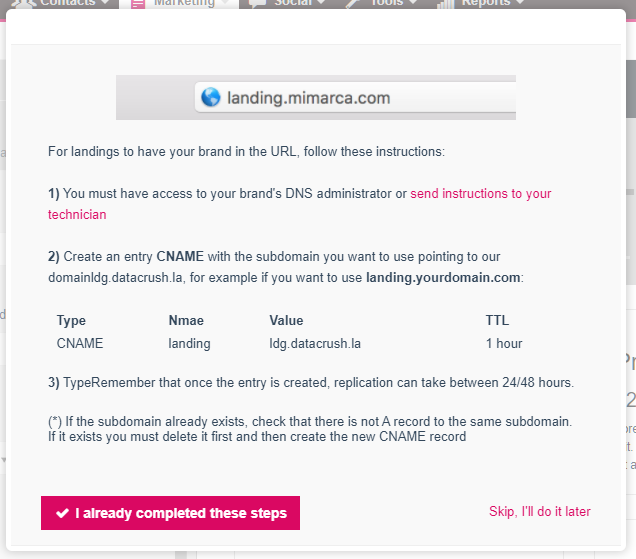 After completing the three steps of the guide, clicking on the button at the bottom left, I already performed these steps, it will allow you to enter the delegated subdomain in the DNS, to already leave it active.

After entering the subdomain URL, a poster will appear confirming that the pending validation process is already underway.

So you have to wait for the servers to update, this process usually takes up to about 24 hours.

Even if in the future, they have to send this guide to the technical area of the customer's company that deals with domain management, from the button in step 1(send instructions to your technician)they can send an email with the same steps.